I came across my 2010 journals this morning. I sat down, opened the first journal and read my daily experiences in the month of February 2010 and something caught my attention.
I wrote about my frustration at not being able to read more books because I couldn't check out all the books I wanted from the school library. I also shared insights on the story I was writing then "Yellow," and made notes on revisions to make to the final draft.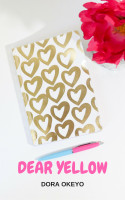 As I kept reading, I realized that even back then I sought insights and wanted to gain a better perspective of my work. I wanted to be able to step back as a writer and go through my work as a reader to see if it resonated with me.
I'll admit that editing and draft revision are the things I often struggle with but over the years, I have found that some things do help in gaining this much needed perspective and these are:
Put you work away for some time. Yes, simply set that manuscript aside and give yourself time to be engrossed in other things and then you can come back to it later. This gives you the clarity to focus on your flow of writing. I found new insights when I read through what I'd typed after a week or two, sometimes even a month.
Get better or like Stephen Covey says in The 7 Habits of Highly Effective People- "sharpen your saw." For years, I would freak about about the potential of getting a writer's block by stepping away from my work. There's nothing wrong with improving your mindset or your writing skills. Take time: read another book, listen to music, eat, dance, walk or go out with friends and then come back to your writing refreshed!
When in doubt, ask. A lot of writers would not do this. Let's be honest with piracy and people who'd steal your ideas, who would want to share a snippet of their story line? Well, if you have a blog- share a snippet (check out how I did it) or if you have beta-readers, send them a sample chapter and get feedback, or bounce off your writing on another writer.
I've got these three insights in mind this weekend as I look forward to another week. My writing's coming along just fine and I am trying not to revise so much that I end up losing the plot. It's a laid back Saturday morning.
I'm nursing a very bad cough. I've had two cups of tea and cannot wait to brew some coffee after I'd had a cold shower.
What are you writing this weekend?
What book are you reading this weekend?
Have a lovely one.
PS:
I'm into Hillsong and looking forward to their upcoming release "There Is More."